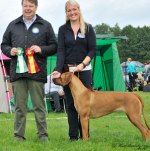 We recieved some great news from Crufts today where Thanzi's daughter (Chango's grand daughter) Ridgebow's Scilla of Thanzi first won a strong Limit class ,12 entries, and later on also managed to win the reserv bitch challenge certificate!! Biggest congratulations to breeders Sven and Bitte Stjärnfeldt and to Scillas handler Ulrika Blom on this great achivement!
Judge today was Mrs E Tan-Hietalahti from Finland.
Scilla has had a tremendous show career so far she was the top winning ridgeback last year in Sweden winning the Swedish Gold list last year competing only from junior and intermediate class! Scilla will turn 2 years old on the 29th of may and we are extremly proud of this girl and her accomplishments so far and I think this star will shine for a long time!