10.10.2015. Bergen all breed show
Casso BOB , BIG and BEST IN SHOW 4
Thanzi BOB veteran and BEST IN SHOW 3 Veteran
Jinx NEW CHAMPION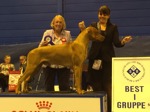 What a great day for Team Kangelani!!!!
Eujw-15 Njw- 15 Kangelani`s Piece Of Art won best of breed, BOB, BIG ,BIS4 and sister Kangelani`s Precious Emely won best bitch.
Thanzi was 2.nd best male , bob veteran and BEST IN SHOW 3 veteran.
Mankoyas Jolly Jinx was 4.th best male and gained his CHAMPION title.
Mali was 2.nd and Loba 3.rd and BOS veteran.
Presilla won her class with excellent.